Stylish Kitchen Window Treatments for Honolulu Homeowners
With regards to looks and practicality, the best choice for window treatments for your kitchen are faux wood shutters or faux wood blinds.
What makes them the best options? Faux wood shutters and blinds are the window treatments that can best stand up to the messes and humidity of most kitchens, while still offering great looks and privacy.
See how shutters and blinds stand up to the heat, and stay in the kitchen in Honolulu homes.
Faux Wood Shutters Are A Kitchen Window's Perfect Match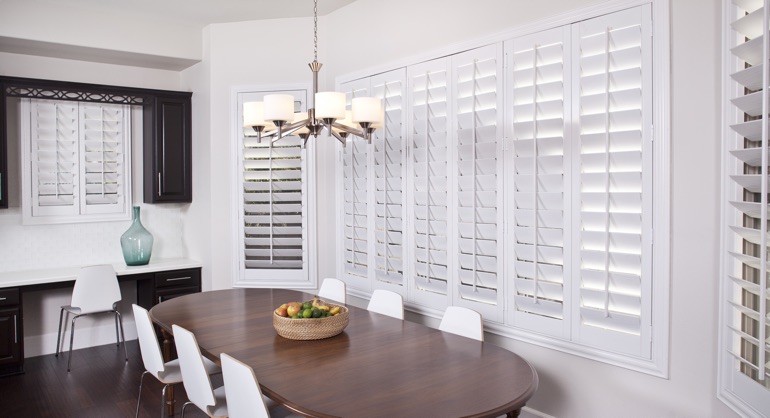 It should be waterproof. Steam coming off the stove, splashes from the sink, and spilled drinks can destroy the appeal of most window treatments. Faux wood shutters are completely moisture-proof, and coated with a protective finish to prevent damage.

It needs to be easily cleaned. Face it – kitchens get dirty. So when that tomato sauce flies onto your shutter, all it takes is a wipe with a damp cloth to make them good as new.

It should be easy to use. Need to open your window in a hurry to let steam from dinner escape? Want to sit that pie fresh from the oven on the window sill to cool? Shutters are easy to operate, and still let you have full access to your window.
Most other window treatments don't offer any of those benefits, let alone all of them. Draperies and shades are easy to stain, anything made of wood can easily become warped in a humid room like the kitchen, and mini blinds can be a hassle to open or shut in a pinch.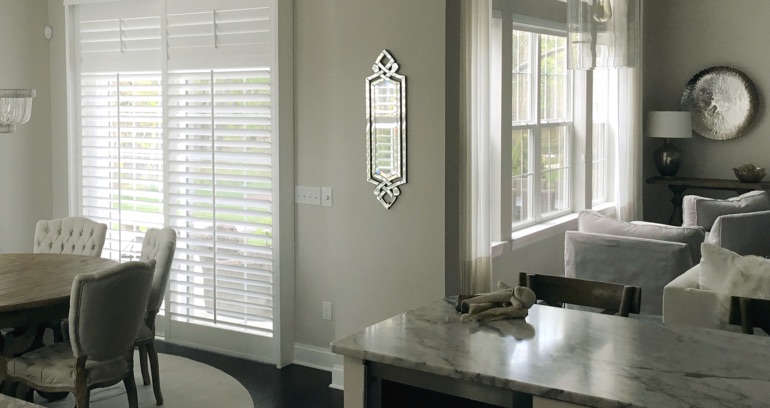 Oh, and did we mention that faux wood shutters look fantastic in the kitchen? With quartz, hardwood and limestone countertops at the height of popularity in Honolulu, faux wood shutters give your kitchen a look that's as beautiful as any designer's best work.
That's why Polywood® plantation shutters are your kitchen windows' perfect match.
Faux Wood Blinds – Vintage Window Treatment For Contemporary Honolulu Kitchens
Faux wood shutters are our top recommendation for Honolulu kitchens, but it's not the only window treatment that will work. In Honolulu, faux wood blinds are our second pick for best kitchen window treatment.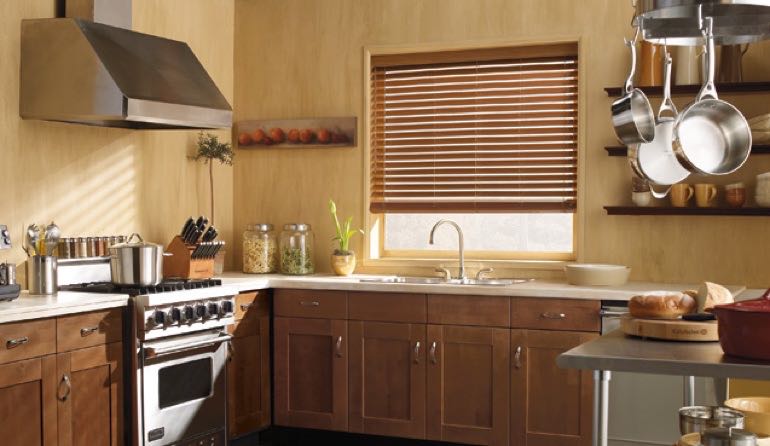 Faux wood is typically going to be moisture-proof, so these blinds are off to a great start already. Since faux wood blinds also won't stain, a wet cloth will get them looking pristine again after a mess. Keep in mind that more blind slats will mean more surface area to clean compared to shutters. Also bear in mind that certain blind cords can rot or wither after constant exposure to humidity, so be sure to ask about the cord material.
Faux wood blinds are great on windows near the sink. In some Honolulu kitchens, your cabinets or appliances might block shutters from opening. With blinds, you don't need as much room to fully open your window.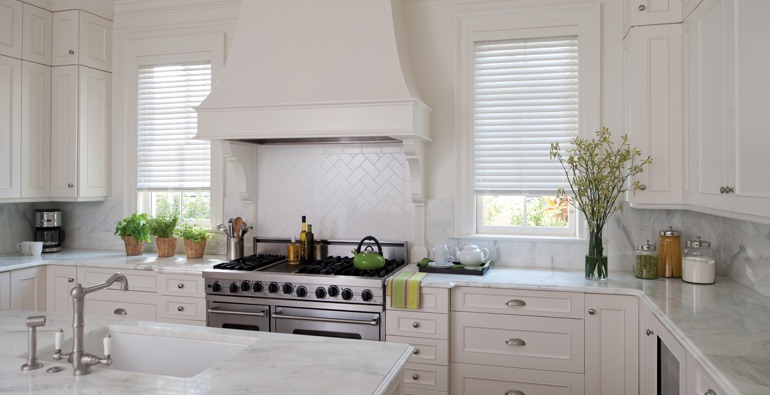 And their looks are classic. They might not be as versatile as Polywood shutters, but faux wood blinds can pair with other natural elements like a limestone counter or hardwood cabinets and trim.
FAQs about Kitchen Window Treatments
Is there a reason why you don't recommend fabric window treatments like drapes or shades for windows in the kitchen?
Many fabric window treatments such as shades and drapes can easily get stained, so they're unsuited for a busy kitchen. The moisture and humidity in a kitchen might also result in mildewing.
Do you recommend a certain color for my kitchen shutters or blinds?
In a kitchen, we recommend a neutral color. A solid white or near-white is an awesome pick, as they'll complement any modern appliances or countertops you may purchase in the future. Blacks, grays and earthtones also work well.
Which window treatment should I get if my kitchen window is a casement?
If your kitchen windows are casement windows, you can still put in shutters. We offer shutters with cut-out panels, giving you full access to your window.
Are there any kitchen window treatments that are fire-resistant?
Polywood plantation shutters are fire-resistant, and won't show discoloring even from prolonged heat exposure, either from the sun or from the stovetop.
During a kitchen remodel, when should I install new window treatments?
Your window treatments, no matter if they're shades, shutters, or blinds, should almost always be one of the last parts of a remodel. However, it might be beneficial to involve your shutter vendor early in your project to coordinate timelines, and better match styles and colors.
Get The Kitchen of Your Dreams With Better Window Treatments
Polywood shutters and faux wood blinds are our top picks for most Honolulu kitchens, but your kitchen might be different. For some personal attention for your windows, schedule an in-home consultation with one of Sunburst's window treatment pros. Call us at 808-797-2004 or use the form below.
And for window treatment recommendations for the rest of your home, check out our Total Room Window Guide.