Ultimate Room Window Guide
The ultimate guide to window treatments for every room in your Honolulu house is finally here! We give our suggestions for the best varieties of window coverings for every room in your house. We take into account light control, fashion, price, effective insulation, privacy, resistance to humidity, resilience, and more to find your best fit.
Explore this guide so you can find out which window treatments you should go with, with links to more detailed recommendations and stunning photos of window treatments for every space.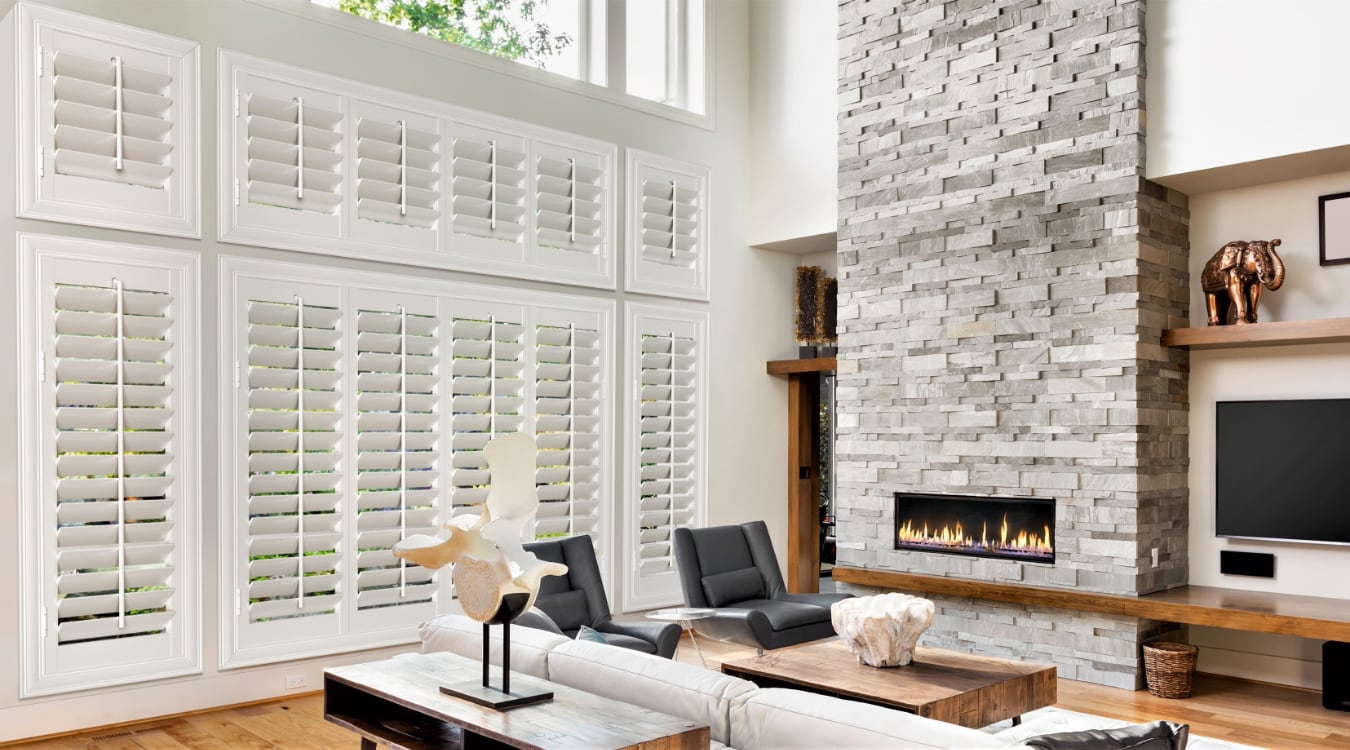 Window Treatment Recommendations: Plantation shutters, barn doors shutters, shades
Living rooms often have the most sizable windows in the home, and it's the room that you'll entertain guests. That makes the living room the perfect place to go all out with window treatments that show your style and give you complete control over the room's comfort. Some of the most ideal window coverings for rooms that are heavily used are plantation shutters and sliding barn doors.
Plantation shutters possess a classic style and are extremely resilient to wear while giving the greatest amount of control over light and temperature, meeting all the living room needs. Likewise, barn door shutters can grant a classic, rustic quality to your living room, while giving you fantastic control of the light that enters the room.
Need more suggestions for your living room windows? Click the button to see a more in-depth guide.
Top Considerations:
Light control, style
Window Treatment Recommendations:
Plantation shutters, reclaimed wood shutters, barn doors shutters, shades, blinds
Your family's dining room may be a formal room you use only sparingly, or as your daily family meal place. Either way, you want a window covering that can give you light control and accentuate your décor to make your dining room a comfortable space.
Barn door shutters can add a rustic, almost romantic style to any dining room - while simultaneously giving you great control over the level of privacy and light you want. Plantation shutters have a traditional style but are also adaptable enough to fit in with more modern home design. Shades, though they give you less control over temperature, still allow for some light control to manage the mood in your dining room, in addition to being available in an extensive selection of fashions and colors to pair with any décor.
Get more concepts and photos to inspire your designs with help from Sunburst Shutters Honolulu.

Photo courtesy of Toll Brothers, www.TollBrothers.com
Top Considerations:
Style, ease of cleaning, resistance to humidity and water
Window Treatment Recommendations:
Polywood plantation shutters, faux wood blinds
The kitchen is a room full of activity, from prepping meals to showing off to guests and then some. Since there are so many uses of the kitchen, you'll need a window treatment that's both versatile and strong enough to stand up to whatever happens in the room.
Polywood plantation shutters meet these needs perfectly. Not only do the neutral tones complement just about any style choice, but they're also extremely moisture-resistant and a breeze to clean as well. Faux wood blinds, while somewhat less durable and attractive than shutters, do give you the humidity resistance necessary for any kitchen window treatment
Looking for more in-depth help on selecting your perfect kitchen window treatment?
Window Treatment Recommendations: Plantation shutters, blinds, shades
The first priority for any bedroom should be light and comfort control in order to make it easy to sleep. No window covering option can match the level of control given by plantation shutters, not to mention their unrivaled ability to give complete privacy and their stellar looks that enhance any décor.
Pull-down shades are also a common choice for bedrooms, giving you that all-important privacy and a cozy look – though they tend to diminish light instead of completely block it like shutters. Shades are also available in a wide array of colors and styles, making it easy to select one that matches your bedroom's color palette.
Interested in more bedroom window treatment suggestions for your Honolulu home?
Honolulu Bathroom Window Treatments
Window Treatment Recommendations: Polywood plantation shutters, faux wood blinds
When you're choosing window coverings for bathrooms, your two biggest considerations are privacy and ability to handle humidity. Both faux wood blinds and Polywood plantation shutters resist water and humidity and also allow for top-notch privacy control due to their adjustable louvers. Shutters though, have the extra benefit of being easily customizable, as they can be built to fit non-square windows.
Discover which bathroom window treatments will work best for your home.
Honolulu Family Room Window Treatments
Window Treatment Recommendations: Plantation shutters, sliding barn door shutters, blinds, shades
Your family room is the place to unwind and spend time together with your family. It's also one of the rooms your visitors will often see more often than others, so your top considerations should be fashion and light control.
Plantation shutters add flair to your family room, and offer great temperature control and insulation to keep your space comfortable. Stylish sliding barn door shutters can become a unique cornerstone to your family room if your goal is to wow your guests.
Blinds and shades are good choices due to being available in a large selection of colors and styles, making it simple to coordinate with your room - though they lack the control over temperature and light that shutters provide.
Looking for further help choosing your ideal family room window treatment?
Honolulu Basement Window Treatments
Top Considerations: Light control, energy efficiency, moisture resistance
Window Treatment Recommendations: Plantation shutters, blinds
Every basement is different. They vary in layout, dimensions, how deep they are, and more. Due to these differences, the best window covering for each basement will differ as well.
For the most part, you want window treatments that can fit your unique basement window shape and size, while being able to let in a good amount of outside light. Polywood plantation shutters fulfill both of those criteria, while also being resistant to humidity that can be an issue in some basements.
For a different option, blinds are also a great choice for basements in Honolulu. Both aluminum and faux wood blinds feature moisture resistant qualities, in addition to fitting the most typical basement window sizes and easily matching your existing decor.
Are you ready to add new style into your basement windows?
Honolulu Home Office Window Treatments
Window Treatment Recommendations: Plantation shutters, shades
Installing the right window coverings in your home office can help you stay productive and focused no matter what hour of the day it is or the outside weather. Plantation shutters offer ultimate control of temperature, light, and sound, making sure you can get work done in a comfortable environment.
If sound reduction and temperature control aren't a concern, shades are a more budget-friendly option that can help fill your home office with subdued light, making it more calm and easier to focus on your work compared to having no window treatment.
Need more tips on changing your home office into a more productive room?
Honolulu Sunroom Window Treatments
Window Treatment Recommendations: Plantation shutters, window film, shades
Sunrooms get a lot of light and are a fantastic place to relax or entertain - as long as you can have control over the amount of light and heat. Plantation shutters look stunning against all the glass and are also perfect for keeping your room at an ideal temperature with a simple adjustment of the louvers.
Integrating window film with another window treatment can increase your room's protection from heat and harmful ultraviolet rays – meaning you won't need to worry about fading carpet, furniture or family photos or artwork. Shades offer a softer aesthetic that you can customize to your house, but be aware that their UV protection won't be as effective as other options.
Ready to turn your sunroom into the most beautiful room in your house?
Honolulu Laundry Room Window Treatments
Window Treatment Recommendations: blinds, shades
Whether we want to admit it or not, we spend several hours in our laundry room each year. To take some of the stress out of laundry, cozy up your laundry room with window coverings that will keep you comfortable, but don't let it slip your mind that laundry rooms can get humid and you may need to keep drying clothes from UV light.
Blinds are a great choice for Honolulu laundry rooms since they're inexpensive and easy to adjust, making light control a snap. Faux wood blinds tend to be preferable to real wood since they can handle moisture. Shades are also a consideration, adding a soft, mellow style to your laundry room. Bear in mind though that shades usually aren't very moisture resistant, in case your laundry room sees a good amount of steam.
Don't fret the laundry room anymore!