How To Choose Bedroom Window Treatments In Honolulu
When you're searching for a bedroom window treatment in Honolulu, color, installation, privacy, light control, and energy efficiency are major criteria to consider. What's the best choice between plantation shutters, sliding barn doors, blinds, and shades? Consider these 5 things when selecting bedroom window treatments in Honolulu, HI.
Privacy
Privacy is the primary criteria for selecting bedroom window treatments. Shades, drapes, and blinds might provide an adequate shield from curious passersby. But their often sheer material means silhouettes and shadows may still be visible.
Sliding barn doors and plantation shutters, on the other hand, give you the most privacy. The shutter louvers can be moved to close completely. And bedroom shutters come with a frame to ensure there's no space on the sides of the window. With sliding barn doors, just slide the panels closed for more privacy. But a slight gap on the sides of the window may be of concern depending on how your sliding barn doors are installed.
Light Control
For all the times you want to block out an obnoxious street light, ignore the full moon, or sleep in, you need a bedroom window treatment that can block light. Blinds, like shades and curtains, are not the best at darkening the room. The material the slats are made from is usually pretty thin. And light still filters in from the sides.
Certain types of shades can provide you with enough room darkening. And some blackout curtains can be effective at minimizing the amount of light that comes through the window. Some blackout curtains can be effective at minimizing the amount of light that comes through the window. And certain kinds of shades can give you enough room darkening. Sliding barn doors, made from solid wood can block the light head on. However the gap on the sides of the panels does not seal off the light completely.
All types of plantation shutters are mounted with a frame that seals off any stray sun rays. And their louvers can lay flat against each other, creating the darkest possible room. Both Ovation® wood and Polywood® shutters are made from louvers that can be closed to block out light. But reclaimed wood shutters might have markings and holes that let in light. Block the light from the street every day with these bedroom plantation shutters!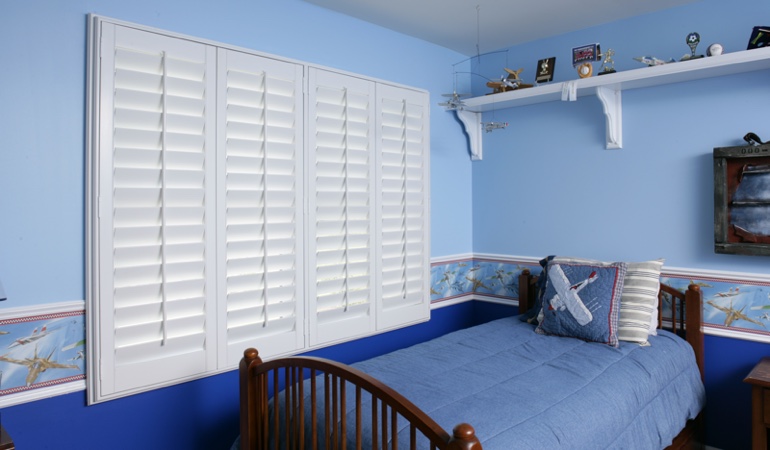 Energy Efficiency
Maintaining the temperature in the bedroom at a pleasant range for sleep through all the seasons may be difficult with the wrong window treatment. You'll want to install for a window treatment for the bedroom with a high energy efficiency rating.
Polywood shutters insulate 70% better than the equivalent wood shutters, and 1600% better than aluminum blinds. And third party testing shows that Polywood blocks up to 30° of temperature and reduces up to 45% of airflow. No other bedroom window treatment in Honolulu comes close. Want to stay cool in the summer and toasty in the winter? Get Polywood plantation shutters in your bedroom.
Color
Bedroom window treatments are available in a variety of colors to match your color scheme. If you want to bring in the warmth of wood, choose sliding barn door shutters, wood blinds, woven wood shades, Ovation wood plantation shutters, or reclaimed wood shutters. For a more modern look, cellular shades, Polywood plantation shutters, or metal blinds are your better choice. And these bedroom window treatments can be customized with a selection of paints, stains, patterns, and more. Contact a window treatment professional about the color options available in the Honolulu area.
Quality
When you're ordering bedroom window treatments, buy with quality in mind. Shades, draperies, and blinds are likely to discolor, break, and lose their integrity within 10 years. Polywood plantation shutters, on the other hand, are engineered to last for 50+ years. They're treated with UV inhibitors, which means the paint color doesn't yellow. And our patented wood synthetic means their louvers will never warp.
Get Window Treatments For Your Bedroom
Sunburst Shutters Honolulu has all the bedroom window treatments you are looking for as well as window treatments for other areas of your home. Our team show you samples of the window treatments you're interested in during your in-home design consultation. We measure the height and width of your windows so that when we mount your bedroom window treatment, it functions smoothly and looks beautiful. Give us a call 808-797-2004 or fill out the form below to set up your free in-home design consultation today!