What Are The Ideal Sidelight Window Treatments In Honolulu?
Sidelight windows, the thin windows that accent your main entrance, are delightful in your entryway and may let daylight into a dull foyer. But they may also allow a glare or reduce privacy. And not every window treatment works with these skinny windows. Most people toil to discover the premiere sidelight window treatments in Honolulu to solve these issues. Luckily, custom Polywood® shutters are the answer to all of your sidelight window problems.
Custom-Made Interior Shutters Fit Your Sidelights' Peculiar Size
You can't hang your run-of-the-mill window treatment over your sidelight windows because to their remarkably narrow width. Standard blinds may leave open spots or overlap with the window frame. Cloth curtains seem out-of-place on such narrow windows. And custom window shades that typically look lovely may seem cheap when shaped to fit sidelights.
Polywood® shutters, on the other hand, can be custom-built to frame your sidelights seamlessly. These hand-made louvered shutters fit in with the design of your windows for a sharp appearance. You can also further customize them to suit your personal sidelights and doorway. They are available in a plethora frame models to coordinate with your door. If you have extra tall sidelights, try divider rails or split tilt rods to separate your shutters into portions that open and close on their own. Or choose standard or smaller louvers for a clean finish on your skinny sidelights.
Interior Shutters Provide Extra Privacy Than Other Sidelight Window Treatments In Honolulu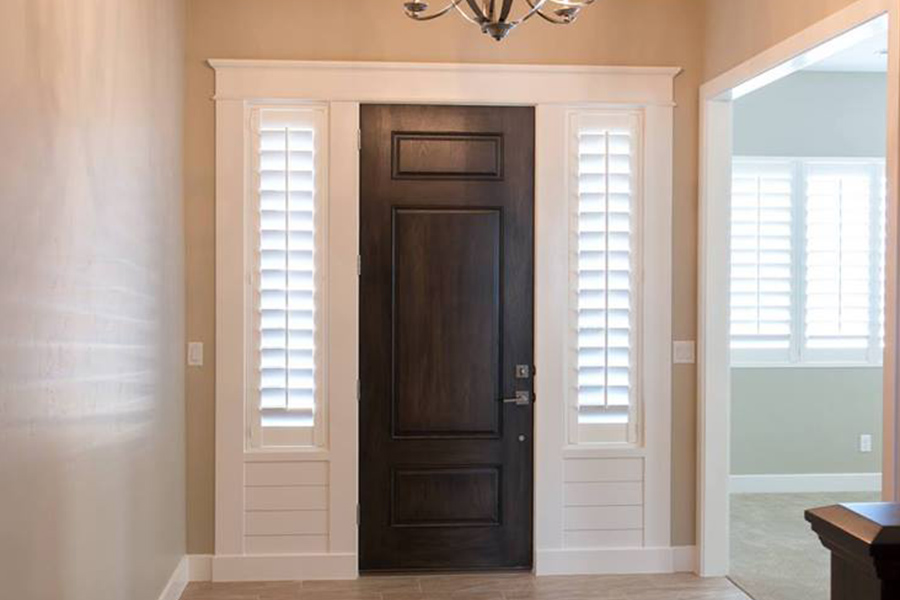 A typical concern with sidelight windows is a reduction of privacy. Anyone who nears your door, from postal workers to inquisitive neighbors, are able to glance right in.
Polywood shutters give you complete privacy on these windows.
The solid faux wood is entirely impenetrable, and their perfect fit ensures no cracks around the side when you shut them for the night.
Solid Polywood shutters also don't move like blinds and drapes in a gust should you get drafts from your door. Interior shutters are also the most long-lasting window treatments. They won't scuff or snap or leave bare space if you have overexcited pets or little ones who reach and pull at them when the doorbell rings.
Interior Shutters Let You Control Light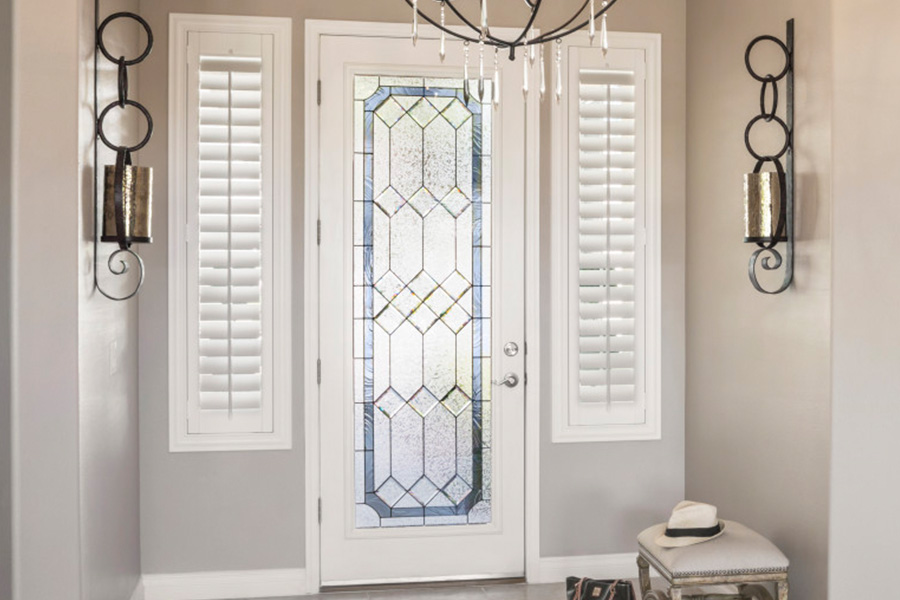 The sun's rays in your front room can liven up your house and make it more cozy to guests as they come inside. But if it gets too bright, it may blind your guests as they walk to the door. And if your entryway faces east or west, your entryway will reside in the shadows for a large part of the day and receive too much direct sunlight and warmth the the remainder of the day.
Polywood shutters are the optimal sidelight window treatments in Honolulu for controlling light in your entryway. If your foyer seems too dark, you can angle the shutter panels to let sunlight stream in. If the sun pours in more than desired, shut the panel and slightly spread the louvers for just enough light.
If you want to block the vast majority of the light and cool your Honolulu home, your Polywood shutters are uniquely built to fit tightly sunlight and air current. You'll have only a soft glow on the lines where the louvers touch, and the patented weatherstripping on your shutters guards your rooms from external air and temperature transference up to 70% more effectively than other window treatments.
Sunburst Shutters Honolulu Has The Top-Of-The-Line Sidelight Window Treatments In Honolulu
Honolulu makes buying sidelight window treatments a breeze for Honolulu homeowners. We're here to answer all of your questions about beautiful Polywood shutters. Reach us at 808-797-2004 today or fill in the form below to book a free in-home consultation.