What Plantation Shutter Color Should Homeowners In Honolulu Use?
Which Plantation Shutter Color Should People In Honolulu Choose?
Plantation shutters are one of the more fashionable window treatments that homeowners in Honolulu get for their houses. Their enduring style blends easily into many different design themes and easily prevents sun glare and heat loss from coming through your windows.
The durability of a plantation shutter
can also be a big bonus, especially when you have children or pets.
Because you have many great aspects regarding these window coverings, the question isn't if you should install shutters in your home. Instead, you should ask what color of plantation shutters will you pick?
White Plantation Shutters Fit Every Style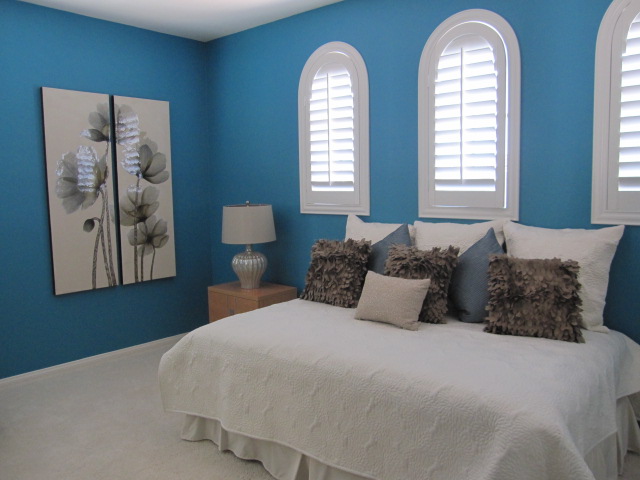 Just like crown molding, white is also the most popular color of plantation shutters for most styles. It's easy to see why -- white can work in many different decor styles. From wild wall colors to traditional interior design, white window treatments can complement them all. And when you redo your preferences and redesign, you can leave your white shutters in the windows, saving you from another chore.
Those who prefer white plantation shutters might try to get them constructed from faux wood so they won't yellow after install. Our Polywood® plantation shutters come in three varying shades of white and are backed by a lifetime warranty that esures the finish will never yellow, stain or fade. To clean, all you need to do is wipe with a damp rag, which means that your window coverings will stay the same white color for the life of the treatment.
Natural Wood Stains Can Accentuate Some Styles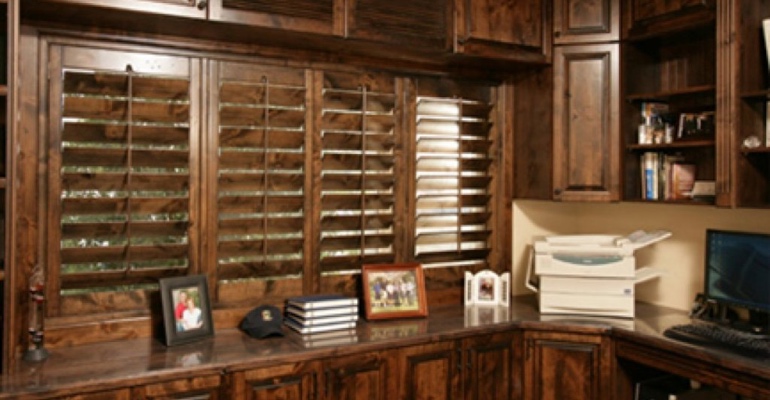 For some interior themes, a
plantation shutter with a wood stain
works best. A mahogany or cherry stain is a bit more limiting for outstanding design overhauls, but if you can match your wood flooring or preinstalled trim, then perhaps you should try wood plantation shutters. Wood stains can bring the space a more natural feeling, perfect if you are going for a colonial or rustic style.
A tried-and-true favorite is to install real wood plantation shutters like our Ovation® shutters. They have many different stains that will work with most woods in your house. If you want an eco-friendly look, you could try a reclaimed wood shutter. These are perfect if you use a beach house or rustic farmhouse theme in your rooms.
Strong Colors Are Best With Other Types Of Window Treatments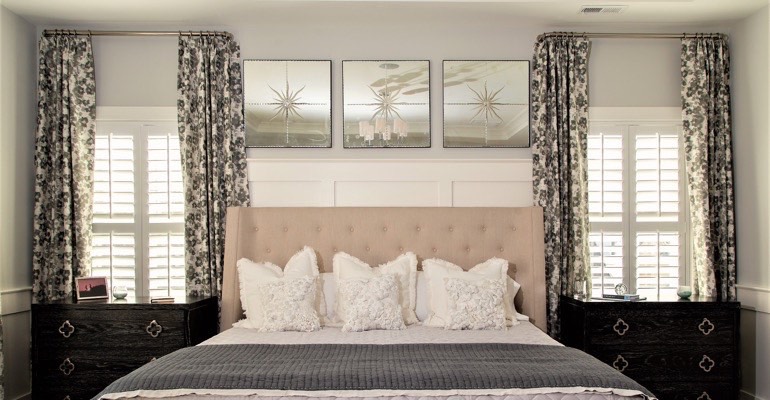 While you may paint your shutters in a strong color, it really isn't advised. A bold color may seem ok now, but then you'll be saddled with that color for the long haul. White and wood stains have are classics, but will the seafoam green or canary yellow shutter still look en vogue 5, 10 or 15 years from now? You can alter your wall color fairly easily, but it may take a replacement window covering to change the color on your plantation shutter.
If you are looking for color, you may want to use a store-bought accent curtain with your plantation shutter. By including a splash of color or pattern, you will show creativity to your window treatments without hindering the practicality of a custom-made interior shutter. Then as your taste changes, you can retain the shutter and just replace the curtain -- or ditch it altogether.
Sunburst Can Help You Choose The Perfect Color Of Plantation Shutter
Whether it's white Polywood or a natural wood stain, Sunburst can find the perfect plantation shutters for your home. Our reps are the premier experts in Honolulu and will drive to you and show you a lot of plantation shutter and window treatment samples. Just call 808-797-2004 and book your in-home consultation today.